EnterTec Technology Inc.
Our ISO 9001:2000-certified factory works 24 hours daily
Lead times: 3-7 days | Advanced QC equipment | SGS- and RoHS-marked products
Assessment

Magazine
Contact Supplier:

Add to Basket
Follow Supplier:

Follow Me
Company Information
Quality Control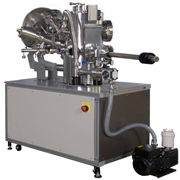 RF measuring instruments
RF signal source corrector
QC/Technical Support:
Our in-house QC team is composed of qualified engineers and technicians. We provide them with regular training programs in-house for consistency.
Procedures/testing Details:
QC inspections are performed starting from the procurement of components to each stage of production. Products are checked randomly, before and after packing, and once more before delivery.
Our QC equipment is imported from Japan and the US. Some of this specialized equipment includes electronic safety, environment-protecting, and inspection equipment for coaxial cable assemblies.
Submit your Buying Request with TradeMatch


Fast and easy to use

Receive tailored offers

Compare quotations

Close
Please select your preferred language:
If you wish to change the language or use the original language later, please refer to the header or footer for more language options.
Back to Top